For almost two years, the state of California has required that solar energy systems be included on new single-family homes and multifamily buildings including condominiums and apartment buildings of up to three stories high.
Now, the California Energy Commission (CEC) looks poised to expand this mandate to include taller multifamily buildings and commercial buildings. Here are answers to questions that tenants, condo buyers, property owners and builders of multifamily residences might have about this measure.
FOR ALL
What exactly is the new requirement?
The CEC has voted to require solar and energy storage systems (also called batteries or battery backup) on many new commercial buildings as well as high-rise residential buildings. The change is included in the 2022 California Energy Code, which sets building standards for new construction.
As proposed, the solar energy system would be sized to cover 60 percent of the building's electricity needs.
In related news, the new building code also requires builders to design single-family homes in a way that allows energy storage to be easily added to the existing solar system; and incentives to eliminate natural gas from new buildings.
What buildings does this apply to?
It applies to multifamily buildings of more than three stories, including condominiums and apartment buildings. And it applies to commercial buildings including offices, hotels, restaurants, medical buildings, clinics, schools, theaters, grocery stores, retail and convention centers.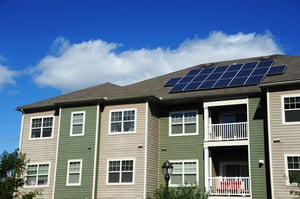 Multifamily buildings served by utilities that don't offer virtual net energy metering (VNEM) are exempt from the solar+storage requirement. Buildings and units of less than 5,000 square feet are exempt from the storage requirement.
Who benefits from the new requirement?
Virtually everyone!
Apartment building tenants and condominium owners will benefit from much lower electric bills and the satisfaction of reducing their carbon footprints. Developers and builders will benefit from more attractive housing products. And the community, state of California and the entire world will benefit from cleaner air that helps slow down climate change.
Who will install the solar and batteries?
We expect builders and property developers will contract with reputable solar companies like Citadel Roofing & Solar to wire and install the solar energy and energy storage systems during construction. Tenants won't have to research installers; that job will be done for them. During construction is always the most cost-effective time to install solar and storage.
How significant is this measure?
Very. California is the first state in the country to require builders to install solar and energy storage systems on new commercial buildings and high-rise multifamily buildings.
When does this become an official requirement?
The measure now goes to the state's Building Standards Commission, which is expected to include the change in the December revision of California's building code. If approved, it will go into effect on January 1, 2023.
What exactly is energy storage and how does it work?
Visit our Learn page to read about the technology and its benefits.
FOR APARTMENT TENANTS AND CONDO OWNERS
How will I know the solar company did a good job installing the system on my building?
Ask the building's owner or builder which company installed the solar and why they were chosen. In today's active California solar market, not all solar installers are as concerned with quality and customer satisfaction as they should be. At Citadel Roofing & Solar, we pride ourselves on delivering quality products and services for Northern and Southern California, from our offices in Vacaville, Sacramento, Santa Rosa, Fresno and Santa Clarita. And we are one of the leading contractors installing solar for homebuilders and new home projects, including multifamily, so we are experienced in that sector of the industry.
How will I know if I'm getting my fair share of the building's solar?
Your building manager or condo board will explain how the solar electricity produced on the roof is apportioned between tenants or owners. This division of solar electricity from one system among different utility customers is called virtual net energy metering (VNEM). It was developed to help people living in multifamily homes lower their electric bills with solar.
How much will solar save me on my electric bills?
That depends on a number of variables including: the solar and storage equipment installed, how much electricity the solar energy system makes, how much is apportioned to you individually, and your local electricity rate.
FOR PROPERTY OWNERS, DEVELOPERS AND CONTRACTORS
How will I know if the solar energy system is working as it should?
You may have access to an online portal for monitoring system performance and/or you should be able to view production numbers on your utility bills.
How do I choose a solar installation company?
Multifamily projects can be complex so you want a contractor well-versed in Title 24 requirements, utility interconnection options, net energy metering (NEM), virtual net energy metering (VNEM) and so on. And you want a company with experience installing solar on low-slope membrane roofs, tile roofs and composition shingle roofs, as well as on other structures such as carports.
Citadel Roofing & Solar has installed solar for duplexes, triplexes, six-story residential buildings and higher. We have also partnered with the multifamily builders for Granville Homes' San Jose apartments and "The District" in Fresno; and Nuvera Homes' Centerville Station North and Aventura on Mission, both in Fremont.