More than one-hundred Fortune 500 companies like Apple, Amazon and Walmart are doing it. Individual homeowners are doing it. So why isn't your small or medium-sized business (SMB) or nonprofit organization doing it?
We are, of course, talking about installing solar energy to slash your electricity bills. The facts are clear: Solar adoption is rising, system sizes are increasing, and the technology is now considered mainstream.
Whatever your motivation for considering solar energy, it's a winner for companies that own their buildings and have unused roof space or land.
Let's look at the benefits of solar from the perspective that aligns best with your company's needs, whether it's:
A reliable investment with a strong return

Lower tax payments

Cost-cutting and budget relief

Brand enhancement through good corporate citizenship.
A Reliable Investment
Any investment that pays for itself through regular returns, and usually in less than 10 years, can safely be called strong and reliable. Here's how it works:
Small and midsized businesses have multiple options for financing a solar energy system. These include lease, loan, Power Purchase Agreement (PPA) and good old cash.
Once your system is installed, the returns start accruing. Regardless of which financing method you chose, your electricity savings begin immediately—the rate you pay for the solar electricity you produce at your business will be significantly lower than the utility's rate.
The time it takes to recoup your commercial solar investment depends on variables including:
System type – rooftop, ground mount, or solar carport -- and the associated cost
The production capacity of your solar, which is affected by factors like roof pitch and orientation, and panel efficiency
Your utility's current electricity rate
How much electricity you use.
On that last point, we're not encouraging you to purposely use more electricity, but there's no denying that the more you use, the faster your system pays for itself.
Once the savings have paid back your investment in full, you benefit from free electricity for years, most likely decades. When Citadel Roofing & Solar develops your custom proposal, it will be based on a 25-year time horizon, since solar panels are warrantied for 25 years.
So even in a conservative case, assuming the panels only work for 25 years (they will likely last longer), you will easily get at least 15 years of free electricity. Imagine the impact that will have on your business's bottom line.
Lower Taxes
If corporate tax payments are hurting your business, solar is an effective way to get some relief.
Small and medium-sized businesses benefit from three government programs that lower their tax bills.
The federal

Investment Tax Credit

(ITC) essentially pays you back 26 percent of the cost of installing your solar energy system. Payment is in the form of a tax credit worth thousands of dollars. The tax credit applies directly to the taxes you owe, lowering your tax payment.
The U.S. Internal Revenue Service (IRS) also offers a

bonus depreciation

benefit to businesses that install solar. This incentive lets your company write off more of your solar investment faster than normal and therefore realize more financial benefit sooner.
Under the California Modified Accelerated Cost Recovery System (MACRS), businesses may recover investments in certain property through depreciation deductions. The MACRS establishes a set of class lives for various types of property over which the property may be depreciated.
The ITC, bonus depreciation and MACRS add up to a smaller tax bill for your company. Our commercial solar experts can walk you through the fundamentals of how these programs work, and your accountant should know how to take full advantage of the programs come tax time.
Significant Cost-Cutting
Now, let's talk about the bread-and-butter of solar energy: the electric bill savings.
Even when you factor in the cost of the solar equipment, the rate or cost-per-kilowatt-hour for solar is far below the utility's rates. Utilities factor in a lot of costs when setting their rates: shareholder returns, supporting their massive corporate structures, complying with government regulations, purchasing oftentimes expensive fossil-fueled electricity, and maintaining their substations, power lines and other equipment.
When you produce your own solar, the equation becomes enticingly simple. You produce the electricity. You use it. What you don't use, the utility pays you for (through California's net metering program). And it costs less.
We have yet to find a small-to-midsized business that can't benefit from lower electricity bills, even if energy is a comparatively small line item in their budget. And some benefit dramatically: The rooftop solar system Citadel installed at the Chinese Baptist Church of Central Orange County is covering an impressive 96 percent of the house of worship's electric bill.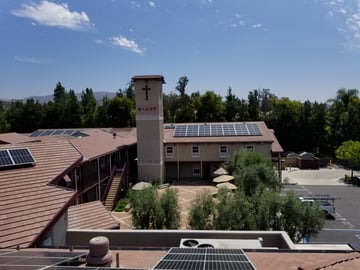 Lower electric bills translate into numerous, intertwined financial benefits:
Lower overhead
Improved cash flow
New cash for other priorities
A locked-in, predictable electricity rate
Easier forecasting and budgeting.
Solar energy's ability to lock in rates and thus offer protection against future utility rate hikes appeals to many smaller businesses. Unlike the electric company, the sun won't charge you more tomorrow than it does today. The utility on the other hand….well, you know how that goes.
Today's solar panels are warrantied for 25 years, as we said above. So you're guaranteed your system will produce the total amount of power you were promised at the outset.
(Note that electric bills for businesses differ from residential bills in that you pay for your "demand" on the electric grid as well as for the electricity you consume.)
Corporate Citizenship
The term "corporate social responsibility" may have evolved in the world of big business, but smaller companies have always known that it pays to be a good neighbor. Creating positive impacts on your neighborhood, your community-at-large and the world benefits your business in several ways.
Some companies find that installing solar lets them make a real, measurable contribution in the fight against climate change, which in turn:
Contributes to their reputation or brand as a company that cares
Instills pride in employees
Increases customer satisfaction
Increases sales.
Nonprofits and city, county and state governments are also turning to solar to reach sustainability goals, demonstrate stewardship and increase community goodwill.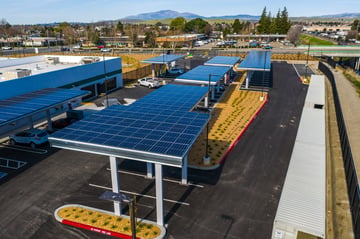 The 579-panel carport Citadel installed for the Alameda County Public Safety Complex will save the county more than $2 million in 25 years, reduce their carbon footprint, and help them achieve LEED (Leadership in Energy and Environmental Design) Platinum certification for their green building.
Additional Benefits
The list of solar energy's benefits for the SMB market doesn't stop there. Some businesses appreciate additional benefits including:
Increased "resiliency" when they pair an energy storage system with solar, allowing them to have power during utility outages
Increased independence from the utility's shareholder-driven decisions, including rate hikes
Support of the local economy when they choose a local solar installation company like Citadel.
Today, small businesses of all types are benefitting from solar energy. That includes office buildings, shopping centers, warehouses, storage facilities, hotels, multi-family housing developments, wineries and farms.
If you own your building and the roof has roughly 100-500 square feet of available space with no obstructions, you can most likely realize significant benefits from solar.
You probably have more questions like Will solar damage my roof? and Is any maintenance required? Visit our FAQ page for more answers, or contact us and speak with one of our solar experts.