The holidays are a time of giving, with many people donating their time and resources to end the year on the right foot. Anything that puts more money in the pockets of worthwhile nonprofits is a good thing in our book. That's why Citadel Roofing & Solar tries hard to contribute not only during the holidays, but throughout the year.
In 2019,Citadel made monetary and in-kind contributions to a number of organizations. Our employees and customers were instrumental in some of these projects, so we thank them, as well as the dedicated staff and volunteers of the nonprofits described below, who toil day after day to make the world a better place.
Choosing Organizations
Citadel is all about protecting people:
Our roofs protect our customers' homes and their families and other valuables.

Our solar energy systems provide low-cost, clean electricity that increases the homeowner's independence from the utility, protects against rising utility rates, and protects the environment.

Our solar energy storage systems help protect our customers from utility power outages and expensive utility rates.
So when choosing which of the hundreds of worthy organizations we'll support with our time and money, we naturally look for groups that also protect people, often through housing aid of some kind.
Here's a look back at the projects Citadel undertook in 2019 on behalf of these organizations. We encourage you to click on the links to learn more about these groups, and to get involved by offering your time or money.
HomeAid Sacramento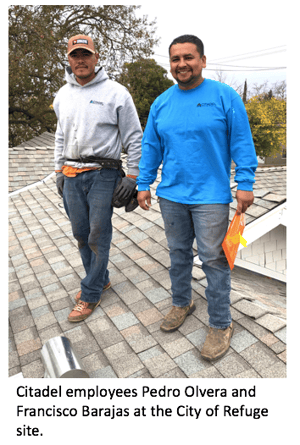 Citadel has very close ties to HomeAid Sacramento, which builds housing for families and individuals including veterans who are temporarily homeless due to a life-altering event. HomeAid Sacramento is the charitable arm of the North State Building Industry. Association, and Citadel's own Bryce Robicheau sits on HomeAid Sacramento's Board of Directors.
Bryce chairs the Annual Trap Shoot fundraiser, which typically raises more than $100,000 a year. Many Citadel employees pitch in by volunteering at the event.
Citadel contributes to other HomeAid Sacramento events and programs as well. A very important one took place just this past November. Working with the City of Refuge, Citadel donated the labor to install a new roof on a housing project for women and children caught up in prostitution and sex trafficking.
Learn more about HomeAid Sacramento here.

Extreme Makeover: Home Edition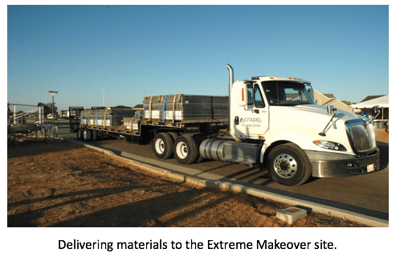 When the TV show Extreme Makeover: Home Edition came to Clovis, California, Citadel Roofing & Solar was there to help. Brought in by general contractor De Young Properties, Citadel contributed the labor to install the roof of a new home for a CAL FIRE Captain and his twin daughters
Learn more about the Extreme Makeover: Home Edition project here.
The Leaven
Citadel Roofing & Solar made a significant donation to The Leaven in 2019, with half of the money coming from employee donations given in exchange for unceremoniously plopping members of Citadel's management team into a dunk tank! Who says you can't have fun at work? The company then matched the funds raised by the employees.
The Leaven is a nonprofit organization that provides mentoring and tutoring to some of Solano County's most at-risk and underserved neighborhoods. They work with 525 children and youth each week, and their results are inspiring—at both the individual and the community level. For example, communities with Leaven centers see on average a 21% increase in tenant occupancy and a 53% decrease in neighborhood crime. Learn more about The Leaven here.
Wildfire Relief Fund
Citadel put out a call for help to its customers in 2019 to trigger a monetary donation to Global Giving's California Wildfire Relief Fund for every review posted on consumer review websites. The California Wildfire Relief Fund supports relief efforts for people impacted by the state's recent wildfires, including the provision of supplies including food, water and medicines.
GlobalGiving is a global crowdfunding community connecting nonprofits, donors and businesses in nearly every country. Learn more about GlobalGiving here, and its California Wildfire Relief Fund here.
Thank you to all our customers who have chosen Citadel for their roofing and solar needs this year. Your support makes it possible for us to continue giving back.