You've probably heard the mattress advertisements saying you spend a third of your life in bed, so investing in a quality mattress will enhance your life one-third of the time.
Now think about your roof for a minute. Your roof helps keep you warm (or cool), dry and safe, 24/7. It protects the structure of your home itself, and all the valuables within the home, including your loved ones. So when you spend the cost of roughly 5-10 mattresses for a new roof, it feels like a worthwhile and necessary investment.
If you value lower electric bills, clean energy that's good for the environment, and gaining some independence from the utility, then installing a solar energy system on your roof (perhaps paired with a solar energy storage system) also feels like a wise investment.
New roofs and solar energy systems are significant investments, so you'll want to know how to protect them. In particular, it's helpful to understand how roofers can impact your solar warranty, and how solar can impact your roof warranty.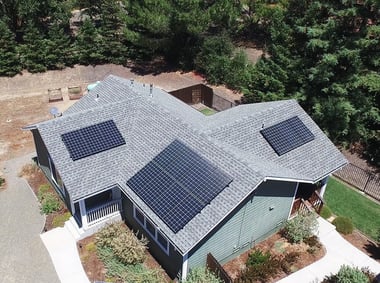 The Citadel Roofing & Solar team has installed tens of thousands of roofs for California homeowners, and thousands of solar energy systems.
Sadly, we've seen a lot of unnecessary damage to roofs and to solar energy systems, which often ends up costing the homeowner a lot of frustration and money. Here's what we've learned over the years, and some tips for how you can protect your family and your investment.
Types of Roof Warranty
A new roof typically comes with two types of warranty:
A workmanship warranty from the installation company. Workmanship warranties provide coverage against installation errors. Citadel Roofing & Solar provides a 10-year workmanship warranty on our roof installations.


A materials warranty from the manufacturer of the tiles, shingles or other roofing product. If the product proves to be defective, it will be replaced at no cost to the homeowner, provided it was installed correctly by the roofing contractor. The length of materials warranties varies. Homeowners often buy extended warranties from the roofing product manufacturer to provide peace of mind and enhance the home's re-sale value.
If your roofer is certified to sell high-quality roofing products and offers extended warranties through the manufacturer, then you can have faith in the roofer's capabilities. The highest-quality roofing product manufacturers only certify roofing installation companies whose work they trust. They don't want to put their name, reputation and money behind inferior workmanship that won't last. The more trust they have in a roofer, the higher-level warranty that roofer can offer its customers. Some manufacturers even audit their roofers' work periodically.
Citadel is trained and certified to sell and install all top-of-the-line roofing systems, and to offer their high-level warranties–including an up-to 25-year extended workmanship warranty–to our roofing customers.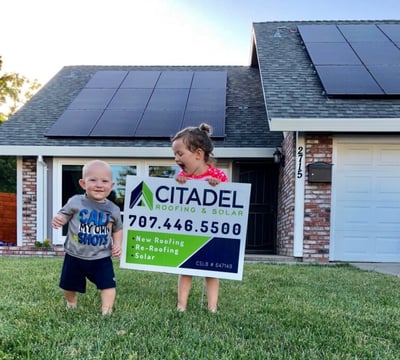 We are a Platinum Preferred Contractor with Owens Corning and a Select ShingleMaster with CertainTeed–which are their highest certification levels. Citadel is also certified by the Tile Roofing Institute (TRI) for roof tile installations.
Types of Solar Warranty
A solar electric system typically comes with several types of warranty:
A workmanship warranty from the installation company. Citadel Roofing & Solar provides a 10-year workmanship warranty on our solar projects.
Materials warranties from the manufacturers of the equipment—solar panels, inverters, racking system, etc.—that make up a solar electric system. Also called equipment warranties, these protect you against defects in their products, and range in length up to 25 years.
A power production warranty, offered by most solar panel manufacturers. It's normal for solar panel production to decrease slightly over time. This warranty guarantees that your panels will remain capable of a certain amount of generating capacity over the years.
In most cases, installing solar requires drilling dozens of holes into your roof so the racking system and panels can be attached properly. Don't panic. We know it sounds risky, but leaks won't occur if the installation is performed by a qualified, experienced company using industry-leading methods and flashings to seal the holes. Just ask the tens of thousands of people currently enjoying solar energy with no damage to their homes whatsoever. ("Flashings" are special materials used to waterproof roof penetrations.)
However, even the best company can make a mistake. That's where the warranties come in. They protect you against unexpected damage caused by the solar installer.
And if you're not sure how experienced or qualified your installer is, warranty protection is critical. (Better yet, don't sign with them. Call us instead!)
How Solar Can Affect A Roof Warranty
In most cases, if the solar panels and the racking upon which they rest are installed by a qualified solar company according to the manufacturer's specifications, a solar energy system should not void your roof warranty.
In fact, solar panels can actually extend the life of your roof—at least the section underneath them. The panels take the brunt of the heat, wind, rain and potentially snow that pummels your roof tiles or shingles throughout the year, protecting the roof below.
However, if the solar company does not adhere to the manufacturer's specifications—whether due to lack of training or lack of care—your roof warranty may very well be voided. Citadel Roofing & Solar has seen too many roofs damaged by solar companies unaware of, or indifferent to, how fragile roof materials are.
Common ways in which a solar installation voids a roof warranty are:
Damage to the roof due to negligence by the solar installer
Use of incorrect installation methods or equipment by the solar installer.
Incorrect installation of flashings at the roof penetrations by the solar installer.
It's disheartening to see the damage that can occur when a solar contractor doesn't respect the roof and the roofing contractor's work. You wouldn't find a contractor scratching up your newly installed wooden floor and getting away with it. Maybe they figure since the roof is largely out of sight, any damage doesn't matter or at least won't be noticed.
It's especially frustrating to us at Citadel because when we put solar on a home, we know what the roof can and cannot withstand. But many contractors don't, or don't care.
In the end, it's the homeowner who pays, sometimes finding their 25- or 50-year roof warranty null and void due to the carelessness of the solar installation crew.
Read on for tips on how to best protect yourself, your roof and your roof warranty, when you have solar installed.
How Roofers Can Affect A Solar Warranty
The potential of a roofing contractor damaging your solar energy system is less likely than a solar contractor damaging your roof, but it can and does happen. If your roof needs repairs and you have solar on your roof, a little preventative medicine will go a long way, as described in the Tips section below.
Be aware that many solar installers do not allow anyone—homeowner or other contractor—to remove, fix or otherwise touch the solar equipment on your roof. If that occurs, your solar Workmanship Warranty is very likely to become null and void.
It makes sense. Citadel's solar Workmanship Warranty puts our craftsmanship, name and money on the line. We are responsible for our work and we know our quality is topnotch. But if someone else messes with our work, we don't know what they've done—what they might have moved, disconnected, nicked, etc. And that means we can no longer vouch for the integrity of the solar electric system or offer a Workmanship Warranty to you.
Read on for easy ways to protect against a roofer damaging your solar system.
The Single-Vendor Option: The Best of Both Worlds
Citadel Roofing & Solar has been installing and repairing roofs for years. One reason we entered the solar business was our frustration with the shoddy workmanship we saw by other solar companies when we were called out to make repairs for our roofing customers.
If you want to install solar, with or without a new roof, we highly recommend hiring a contractor that does both solar and roofs. Even if you don't need a roof, you can rest assured that your solar company knows how to work on your home without compromising your roof.
And should something happen—a scuffed shingle or cracked tile—there won't be any finger-pointing between the two contractors, because you'll only have one. A roofing and solar company can easily fix any damage to the roof.
If you need roof repairs down the road, after the solar is installed, you won't have to worry about the roofing crew voiding your solar warranty when they work around the panels and wiring.
Finally, with one contractor like Citadel, you get one company backing the warranties for your roof and your solar, providing the comprehensive coverage you want to protect your home investments.
Tips for Keeping Your Warranties Intact
Here are some tips for protecting yourself and getting the most out of your roofing and solar warranties.
If you are having a new roof put on your home:
Choose a roofer that offers a long-term workmanship warranty.
Find a roofer that offers an extended materials warranty from the manufacturer. If you need help finding such a roofer, Owens Corning and CertainTeed, two of the largest shingle manufacturers in the United States, offer directories of contractors by location on their websites.
Obtain and read the warranties before signing a contract.*
Find out if the warranty covers labor.**
Ask how solar might affect the roof warranty, in case you decide to install solar down the road.
Consider hiring a company that installs solar as well as roofs.
If you are having a solar energy system installed on your roof:
Call your roofer or the manufacturer of your shingles or tiles to learn if and how the solar might void your roof warranty.
Obtain and read the solar warranties before signing a contract.*
Find out if the solar warranties cover labor.**
Ask your solar installer how they seal the holes they make in your roof. They should be using appropriate flashing and waterproof sealants. Ideally, they follow the standards put forth by the National Roofing Contractors Association (NRCA) and the Western States Roofing Contractors Association (WSRCA).
Consider hiring a company that installs roofs as well as solar.
If you have solar on your roof and your roof needs repairs:
Call your solar company before any roof work is started. Learn how the roof work might affect your solar warranty.
If needed, have the roofing and solar contractors talk to each other.
* We know it's painful to read warranties, but a warranty is only as good as the provisions it spells out and the company behind it. Read the fine print and ask for clarification on any legalese that is not clear. Have the company confirm any clarifications in writing.
** Be sure to ask if labor is included for any repairs or equipment replacements. Sometimes a manufacturer will replace damaged or faulty materials, but not pay for the labor to make the repair.
Investing in a new roof or a solar electric system brings significant benefits to you and your family. Follow these few simple tips to ensure you get the most value out of both types of home improvement, so you can enjoy them for years to come.
Note: Roofing and solar warranties vary by company. This article addresses warranties in general terms. Be sure to read your warranties carefully to understand what they do and don't cover.