More than 2,400 homes were built in Sacramento last year. That's more than any California city north of Los Angeles, according to the California Department of Finance. Roseville was close behind. This robust new home market is about to experience a culture change.
New homes permitted after Jan. 1, 2020, must have solar energy systems installed on them during the construction phase.
This mandate has some impact on architects, who need to design solar-friendly roofs that meet the new code, but it greatly impacts homebuilders and residential developers.
In this new world, construction professionals will need to know how to size solar energy systems, how to pay for them, and how to make sure they're operational when homebuyers move in.
Sizing solar energy systems
Title 24 of the California building code specifies how to size solar systems based on estimated energy use, taking into consideration regional climates and the home's square footage. Homebuilders will need to understand how this sizing methodology works to ensure their compliance with the code.
While the mandate dictates a minimum system size, there is no maximum, so builders will need to decide whether to offer customers the ability to upgrade to larger systems.

Managing the additional cost
Homebuilders generally have two choices for incorporating solar into their financial model. Most builders use only one approach, but it's possible to offer both.
Builders can pay the solar installer upfront and recover the cost through the home sale price.
Or, they can avoid any upfront cost and let the solar contractor arrange power purchase agreements directly with homebuyers. With PPAs, which are similar to leases, homeowners make monthly payments to the solar company or lender that owns the system; those payments are less than the amount they would pay the utility for the same amount of electricity.
Avoiding delays
Keep in mind that if a negligent or poorly trained solar crew damages a newly installed roof, the resulting repairs mean delays and additional costs.
Also, the solar construction partner needs to know how to get permission to operate from the utility as expeditiously as possible. It is extremely frustrating for new homeowners to move in and find their solar hasn't been turned on yet. Their frustration will likely be directed at the builder.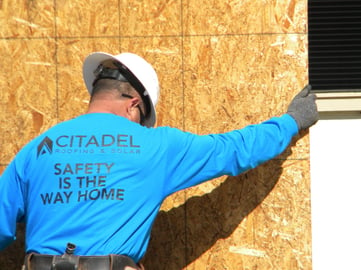 Obtaining PTO typically takes one to four weeks if solar system costs are paid upfront. With a PPA, it can be slightly longer. Good installers will have the solar up and running when the homebuyer moves in, but with others, the PTO process may drag on for weeks or months.
It's not too soon to start planning for 2020 and the solar mandate. Done right, with the right partner, adding solar to new home projects can be an opportunity for home construction professionals, rather than a burden.
Aaron Nitzkin, executive vice president of Citadel Roofing and Solar, has been helping California homebuilding contractors integrate solar into their projects for 16 years. Citadel has offices in Vacaville, Roseville and Valencia.
This article originally appeared in the Sacramento Business Journal on Sept. 27, 2019. It is re-printed here with permission.